Barili (Healthy) tea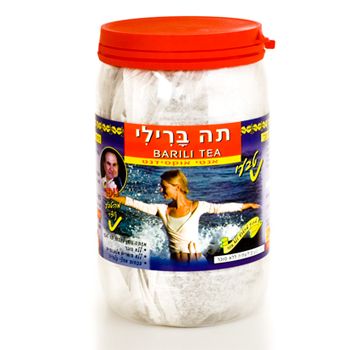 Tasty and ready for drinking without sugar
without calories, and with no artificial sweeteners
"Barili" tea - A green tea with natural anti oxidants, was developed by the Israeli company "NUFAR Natural Products".
Barili tea which was developed by "NUFAR" contains Green tea, Lemon grass, Hibiscus, Taraxacum Officinalis (Dandelion), Rubus Idaeus (Raspberry), Vacinium Myrtillus (Blackberry), Salvia, Rosemary.

All of them are rich in natural Anti-oxidants.

The Barili herbal tea is 100% natural, without preservative or artificial materials.

"Barili" tea also contains natural stevia leaves and therefore it is tasty and ready for drinking without sugar, without calories, and with no artificial sweeteners.

The natural Anti-oxidants neutralize poisons and free radicals. The free radicals are dangerous oxygenized atoms which are found in the environment and in the human body.

The free radicals attach the human D.N.A. and cause cancer, heart diseases, aging of the cells, wrinkles, and other dangerous diseases.
The medicinal herbs referred to in this web site have been researched and published in professional literature.


Everything stated above is within the scope of general information.

Before starting any treatment, you are recommended to read further material and consult professionals.

Another product in "Nufar's" herbal brews is "Nufar sweet and slim". One of its ingredients is the stevia herb, which is known as the number 1 natural sweetener in the world. The stevia is a herb 300 times more sweet than sugar, it has no calories, no sugar, and of course no artificial sweeteners.
Tel: 972-8-9358135

Fax: 972-8-9356958